Swipe to the left
Cauliflower Pizza Base & Cauliflower Rice
Ingredients: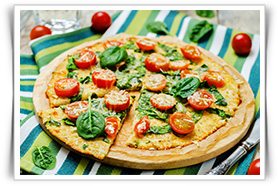 Pizza Base:
1 head cauliflower, cut into small peices
2 garlic cloves
1/3 cup parmesan cheese, grated
2 eggs, lightly beaten
3 tablespoons fresh herbs (oregano, thyme etc), finely chopped
Salt and pepper to season
Cauliflower Rice:
1 head cauliflower
Olive Oil
Method:
Pizza Base:
Preheat oven to 220°C (425°F). Line a baking tray with baking paper.
Add cauliflower and garlic to a food processor and pulse until a fine meal.
Pour into a bowl and add parmesan and eggs. Mix well and then stir in herbs and seasoning.
Transfer mixture onto the baking tray and press down to about 1cm thickness.
Bake until golden and crisp, roughly 25 to 30 minutes. Remove from oven and add your favourite toppings, then bake for another 15 to 20 minutes or until cheese is nicely melted. Leave pizza to cool for 5 minutes and then serve.
TIP:
You can also make cauliflower tortilla by removing cheese and herbs and add ground cumin and then spreading out to about 3 milimetre thickness and baking for just 8 minutes at 165°C (325°F).
Cauliflower Rice:
Cut off the outer leaves and cut the cauliflower into quarters. Then remove the stem and thick core and cut each quarter into thirds.
Half fill the food processor and pulse until it resembles rice. Transfer to a bowl and continue until all of the cauliflower has been blended.
Drizzle with a little olive oil and spread out thinly and evenly on a shallow baking tray.
Bake at 200°C (392°F) for 5 minutes, then mix and cook for a further 5 minutes or until it has a nice dry, fluffy texture like rice. Remove from tray and season with salt and serve as a side to any meal in place of rice.
Tip:
you can also add other seasonings like parsey, coriander or other fresh herbs.