Swipe to the left
Christmas Cinnamon Stars
Makes about 40 biscuits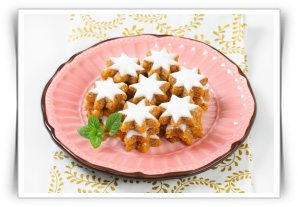 Ingredients:
4 egg whites, from medium sized eggs
2 2/5 cups (300g) icing sugar (or swap with stevia if you prefer)
1 teaspoon vanilla sugar
3/4 cup (125g) coarsely ground almonds
2 1/2 cups (250g) finely ground almond flour
1 tablespoon cinnamon
Extra icing sugar for glaze
Lemon juice for glaze
Method:
Whisk egg whites on high with hand mixer and slowly add sifted icing sugar. Whisk until mixture is stiff.
Remove 3 tablespoons of the mixture to keep for the glaze. Then add vanilla sugar, half of almonds and cinnamon. Mix on low speed.
Add the rest of almonds and then knead dough. Once kneaded wrap in gladwrap and refrigerate for an hour.
Use some extra icing sugar to dust a board and rolling pin. Roll out dough to 1cm thick.
Use a star-shaped cookie cutter to cut out the biscuits and arrange on a baking paper lined baking tray.
Mix the 3 tablespoons of egg white mixture until its smooth. Then add a few drops of lemon juice.
Cover biscuits with the glaze spreading it right out to each point on the star with a brush or spoon. Leave to dry for a few hours or overnight.
Preheat oven to 140°C and bake for 25 minutes. Do not use a fanbake setting as it may brown the glaze.
Move baking paper with biscuits to a tray for cooling.
A great Christmas treat to share with friends and family!