Swipe to the left
Courgette Slice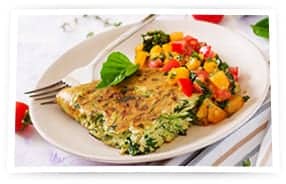 Ingredients:
3 medium courgettes
½ green capsicum, finely chopped
1 medium red onion, finely chopped (or equiv. spring onions)
1 clove garlic, finely chopped
1 cup fresh parsley, chopped
5 eggs
½ cup cheese, grated
1 cup quinoa flour (or other of your choice)
1 tsp salt
Freshly ground black pepper to taste
Method:
Preheat oven to 180°C (356°F). Top and tail the courgettes and grate into a large bowl. Then squeeze the grated courgette to remove any excess water. This can also be done by squeezing it inside a muslin cloth.
Once the water has been drained from the courgette, add the rest of the vegetables to the bowl including the parsley and garlic.
Stir in the egg, cheese, flour and seasoning, mixing very well.
Line a medium sized baking dish with baking paper and pour the mix into the baking tin.
Bake for about 20-30 mins or until golden brown on top.
Delicious to eat hot or cold!