Swipe to the left
Indian Mung Dahl (Hare Mung)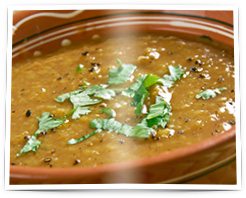 Ingredients:
2 tablespoons mustard oil
1/4 tablespoon whole cumin seeds
1 bay leaf
1-2 dry red chillies (dependent on how hot you want the dish)
1/4 tablespoon allspice or Indian garam masala
1 cup mung bean dahl (hare mung)
1/6 tablespoon ground cumin
3-4 cup water (depends on how thick you want it)
1/2 cup shredded coconut
1 tablespoon ginger paste
1/2 tablespoon sugar (or equivalent stevia)
1/2 tablespoon salt (or less, as per preferred taste)
1 tablespoon ghee
6-10 cashews
4-6 raisins
Fresh coriander leaves for garnish
Method:
Add mustard oil to a wok and wait until hot. Then add cumin seeds, bay leaf, dry whole red chillies, allspice and saute for 15 seconds or until toasted.
Reduce the heat and add mung dahl, ground cumin, ginger, salt and sugar and saute until all the spices and mung dahl are fried.
Add water, raisins and cashews. Cook on low for 10-15 minutes or until dahl is soft.
The curry should have a nice balance of salty, sour, sweet and hot without one flavour dominating over the others.
Add ghee 30 seconds before finishing and mix in well. Then add fresh coriander as garnish and serve with white rice or Indian chapathi or ruti.