Swipe to the left
Pear, Fejoa & Ginger Crumble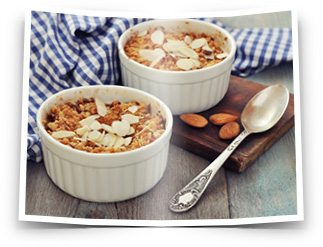 Ingredients:
Filling:
3 mediium pears 8 medium feijoas Juice of a medium lemon 2-3 teaspoons sugar, honey or equivalent stevia ½ teaspoon ground cinnamon ½ teaspoon ground ginger 1 tablespoon butter
Crumble Topping:
3-4 tablespoons coconut oil ½ desiccated coconut ¾ cup almond meal ½ cup raw almonds, roughly chopped ½ cup walnut, roughly chopped Zest of one lemon 2-3 teapoons sugar, or equivalent sweetner
Method:
Preheat oven to 180°C (356°F). Peel and core the pears and slice into ½ cm thick slices lengthways. Arrange them in a deep-sided baking dish.
Halve the feijoas and scoop out the flesh and add to the baking dish. Then add the cinnamon, ginger, sugar (or melted honey) and lemon juice over the fruit. Lastly chop or grate the butter and mix into the fruit.
For the topping, rub together the coconut oil, almond flour and dessicated coconut in a bowl. Add the rest of the ingredients and mix well.
Evenly spread the topping over the fruit in the baking dish and cover with foil. Bake for about 20 mins and then a further 10 mins with the foil removed to brown the top.
Serve with whipped cream or thick greek yoghurt.