Swipe to the left
Spicy Satay Chicken
Ingredients: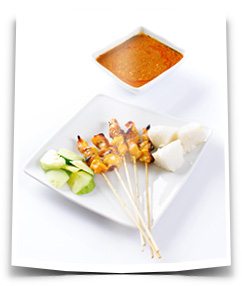 8 free-range chicken thighs, quartered
1 tablespoon coconut or olive oil
1 teaspoon medium curry powder
½ teaspoon ground cumin
1 teapsoon turmeric power
3-4 fresh chillies, deseeded
2 garlic cloves, peeled
5cm piece ginger root, peeled
30g fresh coriander (keep some aside for garnish)
6 tablespoons crunchy peanut butter
2 tablespoons soy sauce
6 spring onions, sliced (leave some aside for garnish)
4 limes
Method:
Mix chicken peices with half of the soy sauce, add to skewers and leave to rest in the fridge.
Gently heat curry powder, ground cumin and turmeric in a dry pan for 1 minute on a medium heat.
Put the spice mix into a blender with the garlic, ginger, two chillies and coriander.
Add peanut butter, spring onions, remaining soy sauce, zest and juice of 3 limes. Blend until nearly smooth. Taste and add seasoning if required.
Add oil to a pan on a medium heat and lightly season chicken skewers with the satay mix. Cook for about 15 mins, or until light brown, turning regularly.
Serve on a plate with the rest of the satay sauce on the side, sprinkle with remaining coriander, spring onion and finely chopped chillies. Add wedges of the other two limes to the side and serve.
Serves 3-4 people. Enjoy!