Swipe to the left
Thai Beef Salad
Ingredients: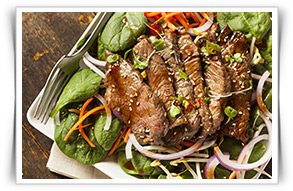 Marinade:
2 Tbsp fresh ginger 2 garlic cloves ½ tsp lemon grass paste 1 tsp honey ¼ cup lime or lemon juice 1 spring onion, finely sliced 2 Tbsp fish sauce
Salad:
350g sirloin steak 4 cups baby spinach ¼ cup spring onions, finely sliced 1 small red onion, finely sliced ½ cup fresh mint, finely chopped 2 capsicums, thinly sliced ½ cucumber, thinly sliced 1 cup mung bean sprouts 2 Tbsp cashew nuts, finely chopped 1 fresh jalapeno or red chilli, finely chopped
Dressing:
2 Tbsp fish sauce 2 tsp honey 2 Tbsp lime or lemon juice 1 tsp fresh ginger, grated 1 tsp toasted sesame seeds
Method:
Blend all the ingredients for the marinade until well mixed. Put the beef into a container with a lid and cover with the marinade. Leave to sit for at least 1 hour or even overnight if possible.
Grill the steak on a hot barbeque or in a frying pan for about 5 mins on each side or until the steak is cooked to the level you like. Move aside to rest for 5 to 10 mins. Once rested, slice thinly.
Combine all the salad ingredients and mix well and divide in 2-3 portions. Top with the beef.
Mix all the dressing ingredients in a small bowl and toss the salad with the dressing.
Enjoy!