Swipe to the left
Tuna & Zucchini Fritters
Makes about 8 fritters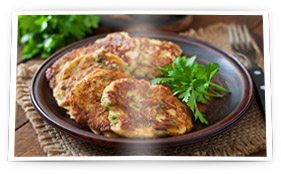 Ingredients:
1 large potato, grated
2 large zucchini, grated
1 large carrot, grated
185g can of flaked tuna
1/3 cup parmesan, grated
1/4 cup plain flour (or try coconut or almond flour for a gluten free option)
1 egg
Butter or coconut oil for frying
Salt and pepper to taste
Lemon slices to garnish
Method:
Combine grated potato, zucchini and carrot in a large bowl with the flour, tuna and parmesan.
Beat the egg lightly and add to the mixture. Stir well and season with salt and peppper.
Heat the butter or coconut oil in a frying pan on a medium heat. Add large spoonfuls of the mixture to the pan and flatten with a spatula.
Cook fritters until they are cooked through and golden in colour. Keep warm in the oven and then serve with lemon slices.
Also great cold for kids lunch boxes or a packed lunch for the office.